Stay Connected With Leads and Potential Clients
Freedom800® call capture line can reach you at any phone numbers you choose, delivering calls to multiple offices, fax, home, or mobile phone. You never again miss calls when on the road or otherwise out of the office.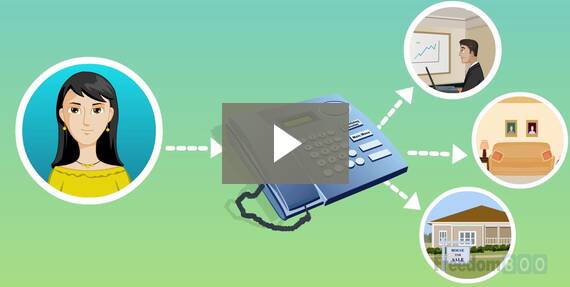 Follow-Me-Live Call Transfer
Real Estate Professionals rarely sit behind their desk all day ready to answer their office phone when a call comes through. With the day to day activities of showing houses, gathering marketing materials, posting advertising, following up with prospects, just to name a few, you're rarely in the same location for any substantial period of time. Being available to your prospects can mean the difference between gaining a qualified prospect or losing that prospect to the next agent in the phone book. Losing one qualified prospect can mean losing a big chunk of income.
With the Follow-Me-Live Call Transfer feature in your Freedom800® call capture line, this is now a problem of the past. This service tracks you down at your home, office, cellular phone, or any other number of your choice to deliver a caller to you. It will announce the caller and let you choose to talk to the person or send the caller to voicemail. You can even select times of day and days of the week for taking calls on a particular number.
Call Forwarding Benefits
Never miss a call - being available to your customers can mean the difference between getting the sale or not.
Callers use ONE number to find you, but you don't have to stay in ONE place.
Save huge amounts of time by not talking to "time wasters". Send them to voicemail instead.
Create an image of a single office while you and your partners work from different homes, different cities or even different states.
Boost your efficiency by customizing call forwarding times. Be able to have calls forwarded according to your schedule.